Optimizing your sourcing and purchasing workflows
A fully configurable platform that allows engineering organizations to streamline product development, production quality reporting and quality management tools from one cloud-based SaaS solution.
Discover the key features and benefits of MESH SRM
Discover the key features and benefits of MESH SRM
Centralize Sourcing Requests
Consolidate sourcing requests into one place from sales/estimating teams.
Expand Your Supplier Network
Gain access to new potential suppliers from the process, commodity, or regional perspective.
Streamline Quotes & Communication
Organize all quoting, communication, and real-time notifications into one central system.
Customize & Simplify RFQs
Optimize building and sending quotes with customizable RFQ templates and a simple 4-step process
Manage Supplier Relationships
Manage supplier relationships with documents, certification tracking, quoting history, capabilities, and processes.
Robust Reporting Dashboard
Create custom reports to snapshot RFQs, quotes, active suppliers, & parts list.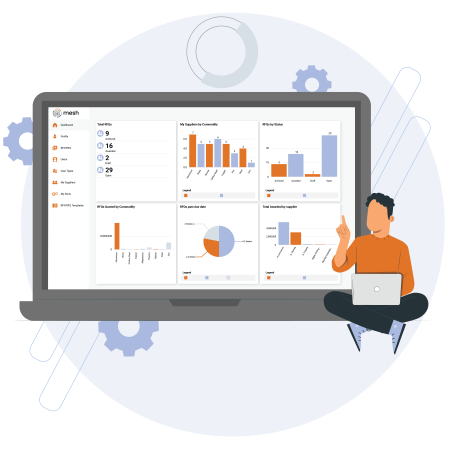 Do you struggle with finding new suppliers across commodities or processes, or geographical regions?
MESH Sourcing is a database of 3,000+ suppliers globally focused on die castings, forgings, extrusions & machined components. MESH Auditors have completed sourcing audits on 1200+ suppliers, which include 45 questions across the following categories: plant equipment & layout, support processes, quality, engineering & logistics. Each supplier profile also includes details on capabilities, machines/equipment, as well as general supplier information like contacts, certifications, etc.
Are your buyers managing quotes in hundreds of email and Excel® spreadsheets?
MESH RFQ allows organizations to organize all sourcing & project requests and easily translate those into RFQs that can be sent to suppliers within the system. "My Parts" and "My Suppliers" libraries allow buyers to create and send RFQs easily. Once suppliers submit quotes, buyers can view, compare and award projects. Teams can translate awarded supplier quotes into customer quotes and add customizable margins to send landed cost quotes to customers.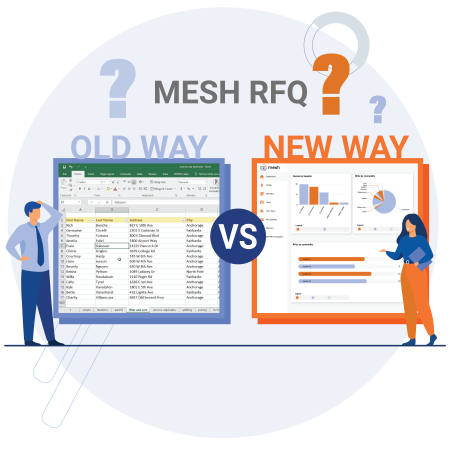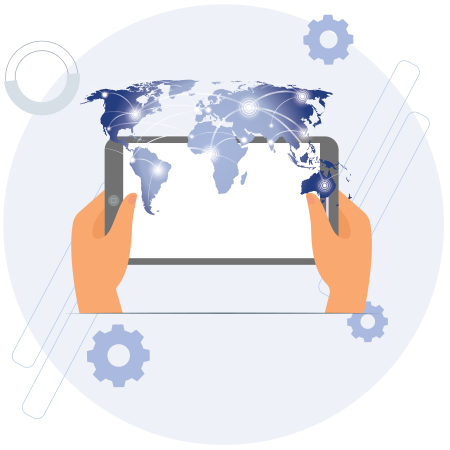 Do you struggle with approved supplier lists? Are you worried your buyers are sending quotes to non-compliant suppliers?

MESH SRM allows organizations to integrate and manage their global supply base. Teams can do everything from organizing historical quoting activity to automatic certification tracking and organization of supplier agreements documentation. MESH also allows organizations to segment and classify suppliers into customizable categories.
Sourcing Reimagined. Purchasing Transformed.