Sourcing is an information overload. The steps of the buyer processes are also meticulous and exhaustive: Buyers must be able to identify the exact pieces they need from multiple suppliers, be able to compare and contrast the products and locations of different suppliers, stay on top of their RFQs to each supplier, and be able to manage the various forms of communication to these suppliers. Finally, if these previous steps were successful, they must be able to communicate and manage the purchasing agreement. To accomplish these tasks on a large scale, efficiently, and successfully would be monotonous and tiresome. MESH has created a solution for all buyers to streamline the procurement process to solve this sourcing problem.

MESH Sourcing
Our database is an end-to-end database for manufacturers with access to 2600+ metal casting, forging, metal extrusions, and machining suppliers across the globe. The MESH Sourcing database is user-friendly and buyer-to-supplier relationship-focused. MESH ensures that every buyer who uses their database has as much information about their supplier as possible. MESH accomplishes this by completing Sourcing Audits for each of its suppliers.
Qualified quality auditor or sourcing engineer of a manufacturing facility conducts a Sourcing Audit. It is a smaller and shorter version of the Quality Systems Audit focused on evaluating the effectiveness and presence of controls and processes at the audited facilities. A MESH Sourcing Audit is the smaller version of a Quality Systems Audit. Experienced MESH quality engineers in individual countries and regions also conduct Quality System Audits. A MESH Sourcing Audit includes 45 questions answered by MESH Quality Engineers based on evidence they see in person at a manufacturing facility. Each question gets a subjective rating from 1 to 5 stars based on the strength of the evidence seen. As of May 2023, over 1700 of our suppliers have been visited and assessed by a MESH auditor.
Why are Sourcing Audits necessary?
Other procurement directories also provide audits for suppliers, but these locations often aggregate a lot of good information about suppliers. The biggest disadvantage of these sites is that suppliers manage this information and can often understate or overstate their capabilities. Many buyers over the years have found that suppliers stated capabilities and, in some cases, even pictures and videos are not authentic. Buyers only find out when they visit or, in some cases, after being awarded the business. This causes stress within quality, sourcing, and sales organizations leading to delays and cost overruns. MESH creates relationships between suppliers and buyers to ensure clarity and satisfaction in manufacturing.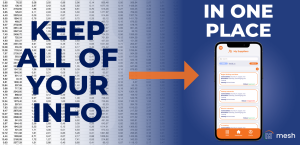 Start Sourcing with MESH
If you want to purchase metal castings, forgings, metal extrusions, or machining, save yourself the hassle and join the age of digital procurement with MESH.