Thirty months since our team members first learned about Coronavirus (remember calling it that!) there is a lot we have learned. It is sobering to think about over half a billion people around the world have contracted Covid and we have over 6.35 million recorded deaths (excluding China, which has stopped publishing its counts). According to the National Institute of Health Covid has averaged over three million deaths and is the third leading cause of death behind heart disease and cancer.

We count ourselves lucky to be here after having so much concern about ourselves, our families, friends, and co-workers back then. While we have learned and adapted, there are many things we got wrong. Most people or teams will not want to think about what they got wrong, but at MESH and MES we discuss our failures from the earlier year, tabulate them and frame them for our "Failure Wall". We celebrate learning from them and vouch never to repeat them. As the world gets ready to turn the Covid page, we feel compelled to write about what we got wrong!
We take pride in these failures like an athlete boasting about football injuries (kidding) – but we do show off scars like a proud soldier who fought a wisely chosen war!
We thought vaccinations would move people past Covid
Well, it hasn't. Just ask the 25+ million residents of Shanghai who are in partial lockdown after almost 10 weeks (The first six were lockdowns similar to those the world experienced back in March-May 2020). China's stand for zero Covid appears over the top for almost any western citizen as well as most Asian countries such as India. It's unclear why China is acting the way they are, but we are not here to judge what countries and people do. The Zero Covid stand and impact on millions of lives were totally unexpected and are among the top things which we got wrong!
We thought vaccinations would fix Covid
Vaccines were developed at a record pace and early doses were made available to medical professionals in less than 10 months of initial virus breakout (December 2020). They were freely available around the world by the summer of 2021. But the Omicron variant in December 2021 and January 2022 brought the world down to a crawl with lockdowns, shutdowns, and travel restrictions mimicking those experienced in 2020. Experts widely believe that we might have new variants which can bring us back to our knees. Let's hope not. But Omicron was not widely expected and our efforts for normalcy took a backseat almost 12 weeks earlier in 2022.
Stock Market Movement
While experts expected S&P to seriously lose value, after a two-week dip in March 2020 it came roaring back climbing 18.4% in 2020 and another 28.71% in 2021 (on top of 31.5% in 2019). Most of the movement was in technology companies, driven by the wider adoption of software and larger market share wins by large companies.
The Real Estate Bubble
Demand for housing went up driven by people wanting to have privacy and seclusion away from exposure to Covid. Supply, on the other hand, was lower due to labor shortages and supply chain disruptions (below) causing large increases in real estate prices around the nation and world, at large.
Real estate increases in midsize markets like Columbus, Ohio saw an almost 100% increase in median house prices (from $150,000 in 2019 to $285,000 in May 2022). This pattern has duplicated itself in most parts of the U.S. and the rest of the world rendering house purchases unaffordable for many.
Supply Chain Disruptions
There will be a book written about supply chain disruptions during COVID in the near future and we will be sure to get an advanced copy to brush up!

Container Rates
Nobody expected the container shortages, which started in the summer of 2021 – a full 18 months after Covid and after vaccinations were fully available. For many reasons which have been noted are that during Covid, carriers left containers wherever they will never need them back after the Covid apocalypse!
Well, they were wrong. The opposite happened.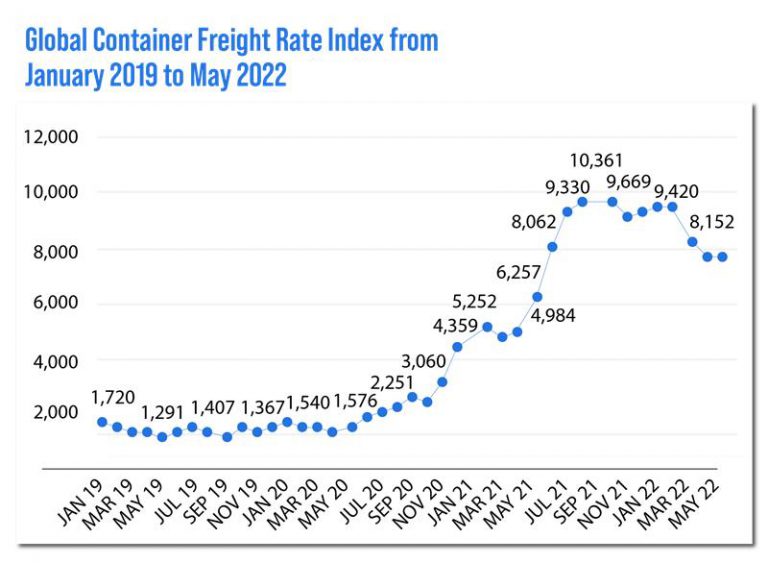 People spent less during Covid and saved more. Businesses adapted and digitized their processes faster and kept working expecting their needs for goods and services to be met at an almost normal level. Vessel carriers and transportation companies got it totally wrong and instead of solving the problem, they decided to make it worse by blank sailing and halting ships. At the same time, they also got this totally right as it is visible from record revenues and earnings (3X-6X) of their normal operations.
We also got it wrong that retailers and importers will be able to move their rates back within a quarter or two. The Drewry Index sits at 7600 in June 2022 (the 10-year average was 1800). Vessel carriers and politicians will point out a reduction from 9100 in January but don't listen to them as they are just ignoring the 2021 data!

Port Closures
Ports around the world followed their political and country-specific protocols shutting down for long periods or operating with skeleton crews with the majority affected by Covid causing serious delays and shortages.
Seafarers
Most of us in industry and laymen outside expected the countries and port authorities and vessel carriers to act rationally, allow seafarers to get yearly vaccinations, and allow safe transport to their home countries. We are afraid it didn't work out that way. Thirty percent of seafarers (people working on ships) were stranded in the fall of 2021 (a full 21 hours after the Covid hit) causing serious shortages of people available to move goods and ships further disrupting the supply chains.
The Great Resignation
Nobody had heard about this term until it was coined in 2021. It describes the record number of people leaving their jobs since the beginning of the pandemic. After an extended period of working from home with no commute, many people have decided their work-life balance has become more important to them. According to World Economic Forum publications, one in five workers globally is planning to quit in 2022. So, we are not done with labor issues!
Companies succeeding in the future will include some type of hybrid remote work and more importantly, flexibility in their policies.
Key drivers behind this are:
People who experienced spending more time with their families at home are cherishing that and want to have that as a permanent fixture in their lives

Companies that digitized various jobs and roles are ok with working from anywhere and having similar productivity levels
Unfortunately, 45% of the global workforce CANNOT work from home – they must show up to stores, factories, and warehouses to do their jobs and there is likely to be continued friction in this labor force as they educate themselves and try to move up into hybrid-type work roles.
Incredibly different reactions to Covid
In the U.S. (much like many other countries), reactions to Covid ranged from deeply fearful to rightfully careful to outright denial of the disease. This was spectacular to see and experience. Many groups were widely discarding medical opinions and rejecting the basic use of masks and sanitizers while others are still wearing masks after 30 months. We are not vouching for one or the other, but it has been spectacular to see how disparately people around the world and within our small team have reacted to Coronavirus and the Covid epidemic.
Political handling of Covid
We have been surprised by how countries reacted to Covid. From initial lockdowns and rational handling by many countries (Singapore, Korea, New Zealand, and a few European countries) to apathetic handling by many others (India after the first 10 weeks, some states in the U.S.) politicians and the public at large have reacted to this crisis in their own unique way. It is fascinating to watch and learn from!
Overall, 30 months after Covid started in China, we continue to be surprised by the impact it is having on people, families, and countries. We got much of it wrong, but we learned that the best way to deal with issues like this is to over-communicate within your teams as well as your suppliers and customers, improve engagement between managers and their staff, and introduce agility in all facets of your business and finally have a strong balance sheet to weather the financial storm. Successful companies emerge stronger from weak markets like this and this time, it won't be any different. While we got a lot about Covid wrong, we were able to learn the correct way to react and that will stay with us as new challenges will inevitably emerge.
---