by Sahil Shah
Die casters typically purchase several grades of aluminum from 3-5 sources. They also purchase a few different grades of lubricants, coolants, and perishable tooling daily. Additionally, they purchase hundreds of different maintenance components and factory operational items from tens of different sources and include small items such as fasteners, gaskets, fittings, and hydraulic parts. A typical die caster likely holds about 500-1000 different items in their maintenance crib and tooling areas.
Many large manufacturers have access to large-scale RFQ and purchasing systems, which typically start around $50,000 and go up to $500,000. Large OEMs and Tier I suppliers can afford this software and integrate them with their ERP systems. Software tools such as Ariba and others have been available for almost two decades. These software solutions, while expensive are powerful.  They easily manage the analysis, contracts, awards, certification monitoring, and overall purchasing and supplier management functions. But small manufacturers with 1-10 users have struggled to find an affordable software solution that can work specifically for them. These companies end up using a variety of nonintegrated tools to store this important part information.  Often, we see them using individual email folders, SharePoint, Google Docs, and various Excel spreadsheets to store this critical data. Or worse, we see systems designed for accounting that is expensive and custom modified to attempt to develop a purchasing management system.
Some of the problems with this are obvious.  However, some of the other dangers of storing this information come into play when another project needs quoting.  Now, the engineer must attempt to review what was initially requested versus what was actually purchased. With personnel changes, this is all but impossible to keep track of and have access. Finally, when data is stored in this manner, can it even be trusted? Thankfully, there are newer software developments, designed for the specific needs of foundry buyers.  Instead of creating new categories (which traditionally meant costly custom development), the prebuilt database includes nearly all iron, steel, aluminum, and other material grades. All of this allows the buyer to quickly pick and create an RFQ, in minutes.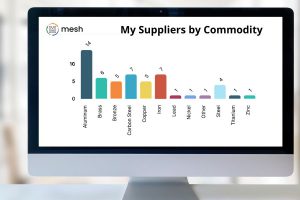 Developed by MESH Works, this is more than a simple RFQ builder.  It's an important Supplier Relationship Management tool that can easily compare quotes and analyze them intuitively in a SaaS solution. When the decision is made to order or source materials, buyers can communicate with suppliers within the portal. Any discussions, variances, negotiations, etc., can also be posted within the portal for a confidential discussion between the supplier and buyer. Quotes provided by the supplier will stay in the system for that specific buyer, their manager, or any new user within the company. Often the same RFQs can be sent at various times along the project timeline, until actual production. Additionally, it allows the same RFQs to be sent again and new prices can then be compared to old prices in a snap to make important decisions.
MESH also has a feature to allow buyers to create a "my parts" library. This allows the easy creation of a detailed library for use in developing RFQs for repetitive materials and tasks quickly and efficiently, customized for a specific buyer, factory, division, and processes. All suppliers of these materials are in one company database; therefore, multiple buyers can access them when sending RFQs for like-kind materials.
Critical to the foundry industry are various supplier certifications that are often required, especially for those serving automotive and aerospace markets.  Keeping track of those certifications and knowing when they are out of date is a daunting yet critical task for your quality audits and certifications.   Now, MESH RFQ and MESH SRM can do more than monitor status; standard certification requirements can be picked from the database while new custom requirements can be added to company-specific templates for special compliance requirements.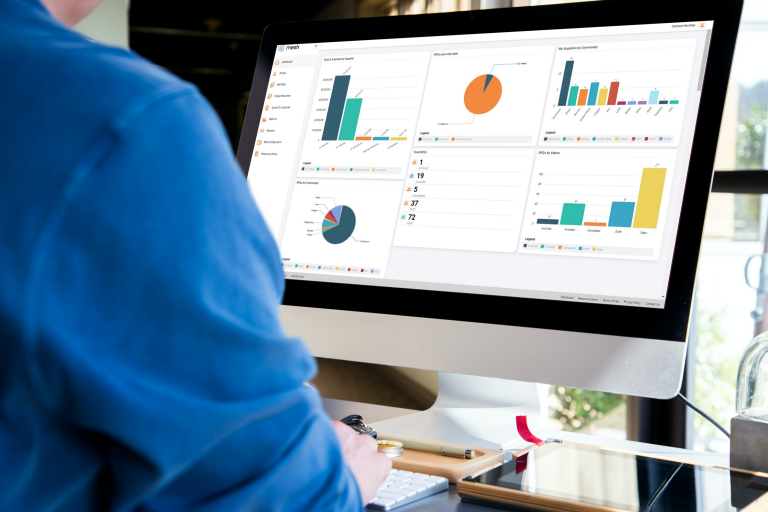 If you are still harboring important purchase information in Outlook, individual hard drives, or Excel spreadsheets – you will appreciate the powerful solutions designed for medium-to-smaller foundries about the RFQ process, purchasing, documentation, and supplier management.
All this automation in a collaborative environment is designed to speed up your process to properly analyze and award contracts to speed up the delivery of goods, at the right price. The knowledge base is the system—for users to access as they need to make informed decisions.
While everyone appreciates the ability to analyze, and award quickly and accurately to keep production up and running, many also point to the labor-saving benefits of these purchasing management tools. Most find that fewer people are now needed for the RFQ process as it is less cumbersome.  This is quite a benefit in today's environment where finding qualified people, is more than a little challenging.
MESH allows foundry buyers to focus on making their buying process collaborative, expedient, repetitive, transparent, and most importantly efficient. Buyers in small foundries and factories wear many hats, MESH aspires to be their workflow software – to be used daily and often.

Sahil Shah is the President & CEO of MESH Works, Inc.
---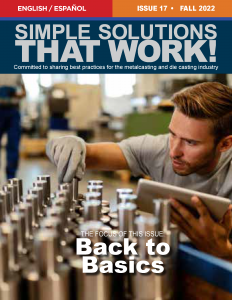 Republished from Simple Solutions That Work, Issue 17, Fall 2022